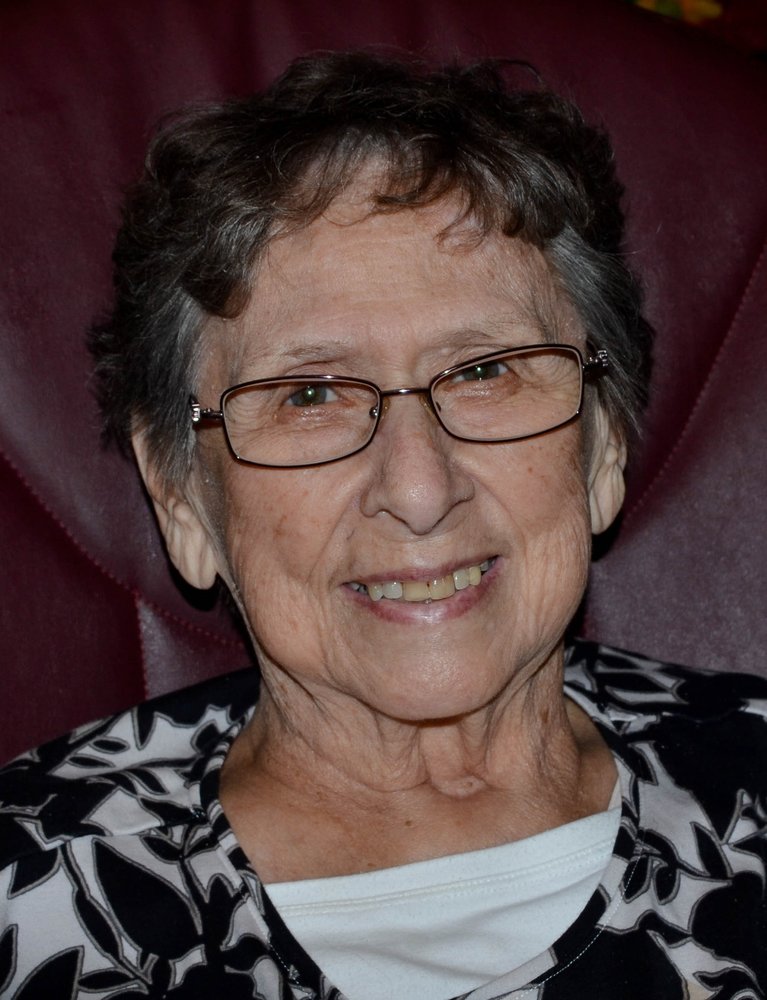 In Memory of
Marilyn "June" Harrell
1930 - 2017
Obituary of Marilyn Harrell
On July 14th at 6:45 a.m. Marilyn "June" Harrell went to be with Jesus.
"June" was born June 22nd, 1930 in Bedford, Indiana in the home of her parents, Maurice Emerson "Dick" and Mabel Clark Gilbert just a few houses away from where she and her husband lived at the time of her passing. She graduated a proud Oolitic Bearcat in 1948 without ever missing a day of school in twelve years! On June 27, 1948 she married Ralph Harrell and after a honeymoon at the Haven of Rest on Hwy 50W, they set up housekeeping in a homestead they purchased with a down payment of a 1938 Oldsmobile coupe. Much to her disappointment, June's sporty ride with her new husband was scaled down to a 1936 one ton flat-bed Dodge truck but they loved their new home.
June's beloved Ralph survives along with two daughters, Su Lynn "Suz" Frederickson of Bloomington and Beth (Larry) Mize of Martinsville and the Mize children Lezli (Steve) Phallen of Worthington, Ohio, J.R. (Gretchen) Mize of Matthews, NC and Caron (Burke) Minsley of Boulder, CO. Also surviving are five great-grandchildren, Jack & Sloan Phallen, Beckett Mize and Evalyn & Felix Minsley.
June was preceded in death by her parents, and in 1948, a brother twelve years her senior, Donald "Buddy" Gilbert.
June was grateful for the blessings of a loving family. She and Ralph planned memorable annual vacations and gatherings that provided a strong foundation for their home. As the Bible teaches, devout faith and servanthood to the Lord was June's principal aim in life and through the years she served with many initiatives to further the mission of the First Church of God in Bedford. Also of great importance to June was her personal mission to welcome into her home friends, neighbors and co-workers with visits most often including a savory meal along with an invitation to church and the building of friendships. June is famous far and wide for her greathearted hospitality!
In the 50's and 60's June served as the business office for Ralph's auto repair shop on the Oolitic Road and she often fixed big country breakfasts in the mornings for the whole shop full of workers! She retired from Sears Roebuck in Bedford with almost 30 years' service to a job she dearly loved. Since she enjoyed all kinds of music - especially gospel and bluegrass, she and Ralph hosted countless music jam sessions in their home. She was a charter member and devotee for the Christian western band, The Limestone Cowboys, with whom Ralph played the guitar and mandolin, and rarely missed a show. Her favorite hobby was crocheting and she gifted many friends and family members with her beautiful creations.
The family would like to extend heartfelt thanks to the White River Lodge "family" of caregivers who made sure the final few months of June's life were filled with laughs and special treats and most of all love with a special thanks to Meg Huffman whose presence alone guaranteed a big smile and "I love you" from June even on the most difficult of days! Donations to a special White River Lodge employee appreciation and thank you fund are encouraged for those who prefer making a meaningful donation in lieu of flowers. A special box will be provided at the funeral home for this purpose. Checks should be made to Suz Frederickson.
Funeral services will be conducted at 3:00 pm on Sunday, July 16th in the Elmwood Chapel of the Day & Carter Mortuary with Pastor Charlie Scott officiating. Burial will follow in Cresthaven Memory Gardens. Visitation will be from 4:00 pm to 8:00 pm on Saturday, July 15th at the Day & Carter Mortuary. Family and friends may express condolences at www.daycarter.com.
Home | About Us | Testimonials | Pre-Need | Obituaries
.
1133 Lincoln Avenue | Bedford, Indiana 47421 | Phone: (812) 275-3389 | ​Fax: (812) 275-7025 | Email: brian@daycarter.com