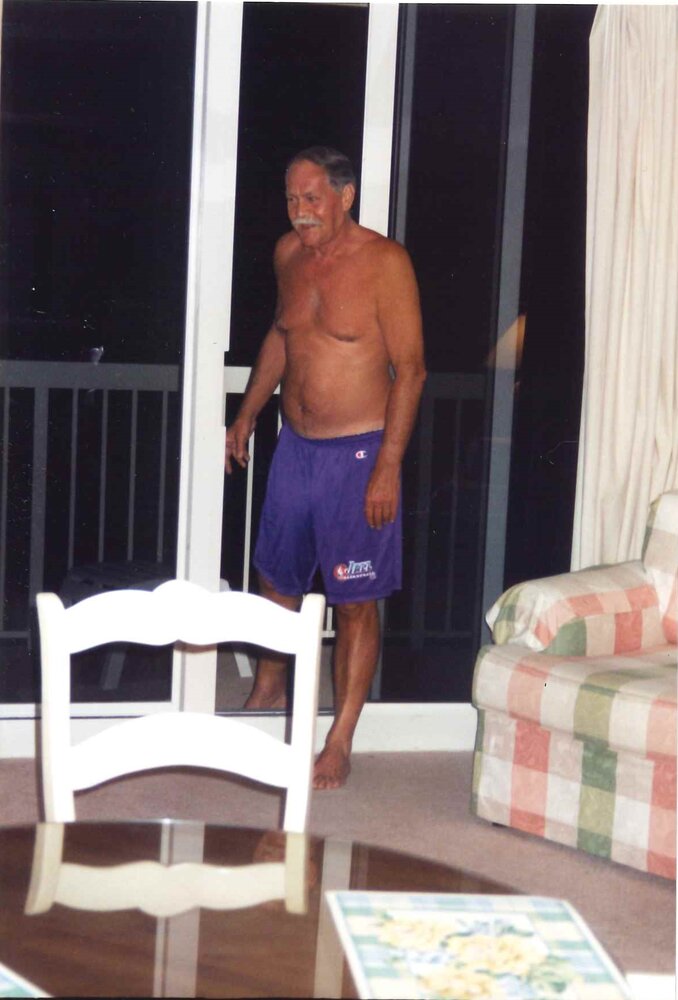 Obituary of David Stigall
Bedford – David Stigall, 81, of Bedford, Indiana passed away on Thursday afternoon November 11, 2021, after a valiant battle with pneumonia. David was born to Theodore and Maxine Stigall of Oolitic, on September 16, 1940. He grew up in the family business making ice cream for the restaurant, which they opened in Oolitic next door to the family home. After his college years, and following two years in the US Army, where he served in Viet Nam, he returned to Indiana where he managed Ted's Restaurant in Prospect, Indiana. He met Beth Larson and they married on June 16, 1969, after which they moved to Fort Lauderdale, Florida. Jeremy David Stigall was born on June 26, 1973, which was his grandfather Ted's birthday. Heather Renee Stigall arrived on May 17, 1977, making the family complete. David made a comfortable living for his family selling real estate in Florida and they enjoyed the warm sunshine and their beautiful home surrounded by orange trees, mango trees, palm trees and various tropical plants including hibiscus, which bloomed nearly all year. Sadly, Theodore passed away in October of 1977, and David moved his family to Oolitic and took over management of the Golden Gables restaurant. After a search for just the right spot, David found his long-time dream of a plot of land surrounded by trees, complete with a creek and a pond, a barn that was 100 years old and the family settled there in August of 1978. He would spend hours every week mowing 7 acres and tending to the 50 acres of hayfields and pastures. The family adapted to farm life with relish and they all helped to raise chickens, dogs, Holstein and an occasional brown Jersey cows and their Appaloosa, Cricket, who was the largest pet. She had a good sense of humor and liked to be in the midst of activities. Daisy and Muffin, Australian Shepherds, managed the livestock and July, the tuxedo cat, arrived one day and adopted the family, fitting right into the menagerie. Spooky came along a few years later and the two cats managed pest control. A vegetable garden provided sustenance and good exercise for a few years and then David began decades of landscaping, planting and tending to many shrubs and small trees, adding to the black walnut trees, the tulip poplars, the oak and ash trees, the mulberry tree and countless others that circled the house and stretched across the acreage. Jeremy become his "regular woodsman" and grew up helping his dad tend the farm. Heather was often found driving the pick-up to gather fallen branches or weed-eating or lending a hand with a paintbrush. Their childhood was filled with learning moments as David taught them both the value of owning your own land and appreciating the privilege of watching Nature's miracles. In 1986, Carol Stigall took over management of the Golden Gables restaurant and David and his brother, Kim, formed a partnership and opened Ball Park Heroes on 'J' Street, in downtown Bedford. The shop was closed in the early 2000's as David's health declined. He would be faced with three major cancers and would bravely soldier on through those medical odysseys, always replying to the doctor's question of what he hoped to be the outcome of treatment with "I want to live forever". To the great sadness of his lived ones, he was unable to recover from pneumonia one more time. David leaves to mourn him, his wife, Beth, his son, Jeremy and his wife, Heather and their teen age daughter, Heather Haley. His daughter, Heather Renee and her nine-year old, Alexandra Celeste are also grieving the loss of Poppy. The girls brought him endless joy. David is also survived by his brother, Kim and his wife, Carol, and their sons, Chad and Darren and their wives and children. A memorial service was held on Sunday, November 21, 2021, at Day & Carter Mortuary in Bedford, Indiana and David was interred in a beautiful spot at Green Hill Cemetery where his loved ones can stop by to visit him often.
Share Your Memory of
David
Home | About Us | Testimonials | Pre-Need | Obituaries
.