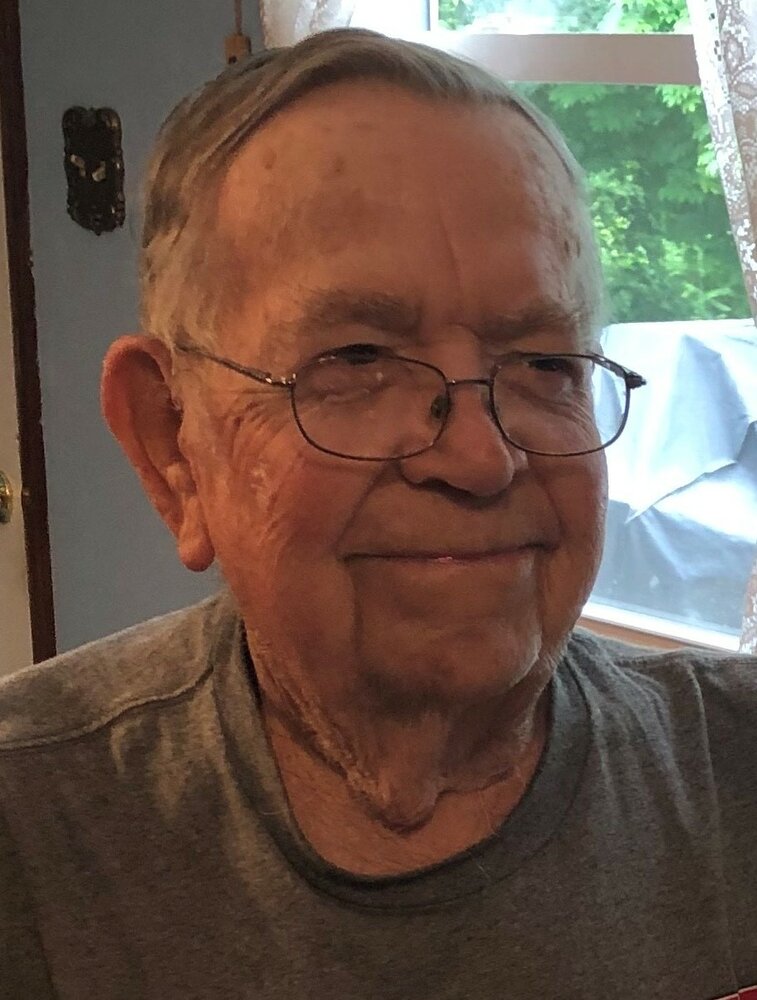 Obituary of Marion David Fish
Marion David Fish, 88, of Bedford, passed away at his residence at 7:11 a.m. on Saturday morning. Born November 9, 1933 in Lawrence County, he was the son of Raymond Fish and Elizabeth (Cummings) Fish. He graduated from Shawswick High School as the Valedictorian of the class of 1951. He married Phyllis A. (Louden) on September 30, 1955, and she survives. He was a Corporal in the U.S. Army, and was stationed at Ft. Benning, GA, from 1956-1958, and then served in the National Guard. He farmed as a young man on his Grandma and Grandpa Fish's farm and also on his brother Gordy's farm. He also worked for Hostess Cakes as a delivery driver and also owned and operated the Avoca gas station for a short time. He retired from General Motors as a relief operator in the Die-Cast Department in 1989 after 27.5 years, and was a member of the UAW. He also was "Vice President" at Fish-N-Supply for 28 years, where he was the chief lure assembler in a small part-time business, assembling lures and "hoping someone would catch a big fish" on one of his lures. Dave was a baptized-believer and served the Lord with gladness throughout his life, was a Sunday School teacher for many years, was a deacon in two congregations and most recently was a member of Sherwood Oaks Christian Church in Bedford. He served as President and Vice President of the Mt. Pleasant Cemetery Association, and was active with the cemetery for the last 50 years or so. The marriage of Dave and Phyllis was a match made in Heaven, in which they were blessed to have for over 66 years before his passing, and it was based on putting God first, and then each other. He loved Phyllis dearly, "a bushel and a peck", and they were together thru good times and in bad, thru sickness and in health, thru life's ups and downs. Dave, Pop, Papaw, or Pa, as he was lovingly called by so many, had a heart of gold, would do anything for his family and friends, and was loved by virtually anyone that knew him. He loved his family so much, and was proud of his kids, grandkids and his great-granddaughters, who really brightened Papaw's world, even a day before his passing, and he was looking forward to the arrival of his great-grandson, Good Lord willing, in July. Papaw was a best friend to his grandkids, and they never outgrew that. He tried his best to never miss a sporting event, dance recital or church or school program that his grandkids were involved in. He helped coach his grandsons' Oolitic biddy basketball teams, two teams per season, for seven years and loved supporting his grandkids and being there for all his family. We were blessed by the perfect Heavenly Father to have this wonderful man in our lives. He was also "Pa" to so many other young people who loved Dave so much, even many who were not related by blood. Survivors include his wife, Phyllis, of Bedford; one son, Mark Fish and his wife Lynn, of Bedford; one daughter, Pam Alhorn, of Bedford; Grandchildren, Andy Fish and his wife Kelsy, Corey Paul Fish, and Ashley Brooking and her husband Jacob; great-granddaughters, Clara and Lucy Fish and a great-grandson, Baby Brooking, due in July. He was preceded in death by his parents; daughter, Tammy Fish; son-in-law, Bobby Alhorn; great-grandbaby Fish; his only brother, Gordy Fish; sisters, Rhea Dawn Fish, Maxine Dalton, and Junie Roberts. Funeral services will be held at 2:00 p.m. Thursday, May 26th at Sherwood Oaks Christian Church in Bedford with Pastor Tim Thompson and Mark Fish officiating. Burial will follow in the Mount Pleasant Christian Cemetery where military rites will be held. Visitation will be from 4:00 p.m. until 8:00 p.m. on Wednesday, May 25th at Sherwood Oaks Christian Church in Bedford and from 1:00 p.m. until the hour of service on Thursday.
Share Your Memory of
Marion
Home | About Us | Testimonials | Pre-Need | Obituaries
.