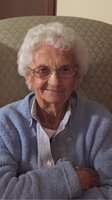 Norma Bartlett
Bedford – Norma Bartlett, 93, of Bedford, passed away at her home on Friday, April 05, 2019 with her family by her side.
Born June 17, 1925 in Lawrence Co., she was the daughter of Shirley and Pearl (Kirk) Sharr. She married Teddy Bartlett on January 9, 1945 and he preceded her in death on September 8, 2004.
Norma worked at RCA during WW II in the Secret Room. She then took the role as homemaker, mother, grandmother, and partner on the family farm. She was especially proud of her baby chicks which she raised and sold eggs. Some years she would raise over 300. Norma was an active member of the Bartlettsville Christian Church where she taught Sunday School over forty years. She enjoyed singing and sang with various groups at church. Norma kept her memories in diaries since 1941, leaving her family with a rich history of not only family events but world happenings.
Norma is survived by a son, Jack Bartlett and wife, Kay; two daughters, Donna Fish and husband, David, Betsy Robertson and husband, Jerry, all of Bedford; eight grandchildren, Kelly (Mike) Wright, Lori (Jamie) Cummings, Amanda (Erik) Turner, Jaclyn (Brett) Thomas, Darin (Danielle) Fish, Kortni Fish, Jamie (Tevin) Norman, and Joni (Nathan) Combs; 17 great-grandchildren, Peyton Wright, Ryan Wright, Emily Wright, Morgan (Katie) Cummings, Lexie (Mark) Hudelson, McKaylin Turner, Eathan Turner, Evan Turner, Tobin Thomas, Jax Thomas, Caden Fish, Audri Fish, Maeve Uhlman, Taylor Norman, Karsyn Norman, Kalin Combs, and Ridley Combs; one sister, Ruby Cracraft and husband, Willard, of Bedford; one brother, Bob Sharr, of Oolitic; a brother-in-law, Joe Bartlett and wife, Marian, of Bedford; several nieces, nephews, and cousins. She was preceded in death by her parents, her husband, a great grandson, Brady Wright; two brothers, Jim and Harold Sharr; two sisters, Bernice Ritter and Barbara Bartlett.
Funeral services will be conducted at 11:00 am on Monday, April 8th at the Bartlettsville Christian Church with Pastors Tim Day, Larry Ritter and Taylor Brown officiating. Burial will follow in the Bartlettsville Christian Cemetery. Visitation will be from 1:00 pm to 8:00 pm on Sunday, April 7th at the Day & Carter Mortuary and from 10:00 am until the hour of service on Monday, April 8th at the Bartlettsville Christian Church. The family asks that friends consider memorial contributions be made to the Bartlettsville Christian Church Cemetery Fund. Family and friends may express condolences at www.daycarter.com.