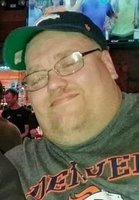 Danny Lee Brosamle
Bedford – Danny Lee Brosamle, 45, of Bedford, died at 3:33 am on Monday, March 11, 2019 at his residence.
Born November 5, 1973 in Sullivan County, he was the son of Danny Brosamle and Cathy (Long) Terry. He married Stacey D. Kinser on April 26, 1997 and she survives. He was a merchandizer for Keurig, Dr. Pepper, and Snapple.
Survivors include his wife, Stacey, of Bedford; three children, Taylor Brosamle, Jasmine Schulz and husband, Chadrick, and Zachary Brosamle, all of Bedford; three brothers, Charles Long, Anthony Brosamle, and Dustin Bowersock; a sister, Christine Terry; several brothers and sisters-in-law; several nieces and nephews. He was preceded in death by his parents, a sister, Deanna Tuell; a brother, Shawn Brosamle and his mother-in-law, Brenda Kinser.
Funeral services will be conducted at 11:00 am on Thursday, March 14th in the Elmwood Chapel of the Day & Carter Mortuary. Burial will follow in Gilgal Cemetery in Heltonville. Visitation will be from 4:00 pm to 8:00 pm on Wednesday, March 13th at the Day & Carter Mortuary. Family and friends may express condolences at www.daycarter.com.