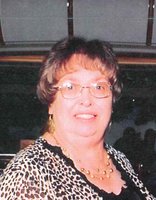 Sherry E. Amstutz
Sherry E. Amstutz
June 15, 1948 – February 8, 2019
Williams – Sherry E. Amstutz, 70, of Williams, died at 7:42 pm on Friday, February 8, 2019 at St. Vincent Dunn Hospital.
Born June 15, 1948 in Lawrence County, she was the daughter of William "Bill" Jeremiah Henderson and Bernadine Mildred Verhines. Sherry married Christopher G. Amstutz on April 6, 1968, and they had been married for over fifty years. She was a tax preparer and ran the bait shop in Williams. She was a member of the Bedford Moose Lodge and Bedford Boat Club.
Survivors include her husband, Christopher G. Amstutz of Williams; children, Christopher G. "Guy" Amstutz and wife Julayne of Louisville, Deanna Rose "Dee" Nusbaum and husband Mitch of Williams, Gerald Ray "Gary" Amstutz of Williams, Amy Watson and fiancé Scott White of Bedford; 10 grandchildren, two great-grandchildren; her mother, Bernadine Mildred Verhines of Williams; one brother, Robert H. "Bob" Henderson and wife Crystal of Kentucky; two sisters, JoAnne Hussein and husband Aly of South Carolina, and Gloria J. Stewart and husband Ron of Mitchell; and loving brother-in-laws, loving sister-in-laws, and extended family. She was preceded in death by her father, William "Bill" Jeremiah Henderson.
Funeral services will be conducted at 11:00 am on Wednesday, February 13th in the Elmwood Chapel of the Day & Carter Mortuary. Burial will follow in the Mt. Olive Church Cemetery. Visitation will be from 4:00 to 8:00 pm on Tuesday, February 12th at the Day & Carter Mortuary.