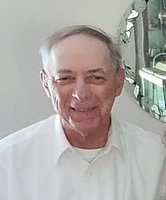 Jimmie W. Jones, Sr.
Bedford – Jimmie W. Jones, Sr., 74, of Bedford, died at 3:01 pm on Wednesday, February 6, 2019 at I.U. Health Hospice House in Bloomington.
Born January 2, 1945 in Lawrence Co., he was the son of Oscar E. and Helen G. (Flynn) Jones. He married Diana "Susie" Prince on January 20, 2000 and she survives. He was a heavy machine operator for Independent Limestone Quarry and a member of Hod Carriers Union #741. He was a member of the Tunnel Hill Pentecostal Church and loved reading his Bible, praying, and ministering to people.
Survivors include his wife, Susie, of Bedford; three daughters, Mary Staggs and husband, Mike, of Bedford, Valerie Powers and husband, Stan, of Alexandria, IN, and Peggy Taylor and husband, Jerry, of Springville; nine grandchildren, Michael Staggs, Jr., Trista Staggs, Kayla McKinney, Matthew Staggs, Jessica Staggs, Troy Harris, Jr., Kari Harris, Timothy D. Stines, Jr., and William H. Stines; thirty-one great grandchildren; two brothers, Lonnie Jones and wife, Barbara, of Bedford and Ricky Jones and wife, Mona, of Springville; a sister-in-law, Susie Jones, of Springville, and several other brothers and sisters-law and nieces and nephews. He was preceded in death by his parents, a son, Jimmie W. Jones, Jr.; two brothers, Eddie Jones and wife, Kay, Tommy Jones; and his first wife, Judy Dianne Jones.
Funeral services will be conducted at 11:00 am on Monday, February 11th at the Tunnel Hill Pentecostal Church in Owensburg, IN with Bro. Dallas Lakes and Bro. Justin Berger officiating. Burial will follow in the Clover Hill Cemetery in Harrodsburg. Visitation will be from 2:00 pm to 8:00 pm on Sunday, February 10th and from 9:00 am until the hour of service on Monday, February 11th all at the Tunnel Hill Pentecostal Church. The family asks that friends consider memorial contributions be made to the Tunnel Hill Pentecostal Church, the American Diabetes Assoc. or the American Kidney Foundation. Family and friends may express condolences at www.daycarter.com.