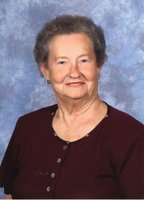 Barbara Louise Smoot
Barbara Louise Smoot
September 3, 1930 – December 1, 2018
Bedford – Barbara Louise Smoot, 88, of Bedford, died at 3:15 am on Saturday December 1, 2018 at Westview Nursing & Rehab.
Born September 3, 1930, she was the daughter of Gerald and Thelma (Deckard) Sowder. She married Lloyd Smoot and he preceded her in death. She retired from Westinghouse in Bloomington. She also worked for Sarkes Tarzan, and sold Avon for thirty years. She was a lifetime member of Donica Church of God.
Survivors include four sons, Dennis Smoot and his wife Priscilla of Bedford, Eddie Smoot and his wife Peggy of Bedford, Larry Smoot and his wife Terri of French Lick, Mark Smoot and his wife Doloris of French Lick; nine grandchildren, Darla Smoot, Danniel Smoot, Denny Smoot, Tammy Burchard, Toby Box, Brian Smoot, Lora Smoot Gilbert, Levi Smoot, Gavin Smoot, Mark Smoot, Stacey Smoot Emmons; twenty three great grandchildren; eighteen great-great grandchildren; three sisters, Irene Padgett of Switz City, Maxine Allgood of Bedford, Carolyn Perry of Bedford; one brother, Harold Sowder of Bedford. She was preceded in death by her parents; husband; and one brother, Farrell Sowder.
Funeral services will be conducted at 10:00 am on Thursday, December 6th in the Elmwood Chapel of the Day & Carter Mortuary with Pastor Brian Bolton officiating. Burial will follow in Hanson Cemetery. Visitation will be from 4:00 to 8:00 pm on Wednesday December 5th at the Day & Carter Mortuary, and also from 9:00 am until the hour of service on Thursday. Donations may be made to the Hanson Cemetery.