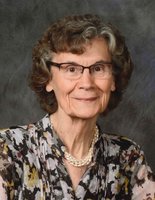 Glenda M. Maddox
Bedford- Glenda M. Maddox, 82, died Friday at 2:55 pm surrounded by her family.
Born January 6, 1936 in Lawrence County, she was the daughter of Earl and Izella (Stillions) Lemon. She married Ben Maddox on November 13, 1954 and he preceded her in death on October 27, 2008. She worked at Triangle & Leahy and later a homemaker. She was a member of the Valley Mission Church of the Nazarene. Glenda loved her Lord and savior and lived her life for him. She loved her family wholeheartedly and took pride in her home and farm.
Survivors include one son, Ted Maddox and his wife Diane, of Guthrie; one daughter, Anita Ritter and her husband Gary, of Guthrie; grandchildren, Matthew Ritter and his wife Andrea, Heather Moore and her husband Matthew, Danielle Martin and her husband Kelsey, Jake Maddox; four great-grandchildren, Madelyn Grace Ritter, Braden Ritter, Tayler Moore and Isaiah Moore; one sister Mildred Maddox, of Guthrie; one sister-in-law, Loretta Maddox; several nieces and nephew. She was preceded in death by her parents and her husband.
Funeral services will be conducted at 11 am on Wednesday at the Valley Mission Church of the Nazarene with Pastor Heather Moore and Pastor Paul Whiteford officiating. Burial will follow in Clover Hill Cemetery. Visitation will be from 4 pm to 8 pm on Tuesday at the church. In lieu of flowers, contributions can be made to Valley Mission Church of the Nazarene.