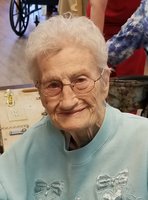 Ruth M. Johnson
Bedford – Ruth M. Johnson, 97, a resident of Auguste's Cottage at Westview Nursing and Rehab. in Bedford, died at 2:55 am on Wednesday, April 11, 2018.
Born October 17, 1920 in Bedford, she was the daughter of Ollie and Dora (Clifford) Beasley. She married Robert G. Johnson on September 10, 1943 and he died during WW II on May 23, 1944. She later married Richard C. Johnson on January 25, 1945 and he died on December 17, 2002. She was employed at K-Mart for twenty-eight years. She was a member of the First Baptist Church of Williams and a life-time member of the Bedford Boat & Sportsman's Club and Club 55 bowling league.
Survivors include two daughters, Judith E. Caswell and husband, Bert, and Jean Ellen Jackson, of Bedford; a granddaughter, Terri Cazee of Portland, OR; a grandson, Tim Caswell and wife, Audra, of Edinburgh, IN; four great granddaughters, Gretchen Cazee, Morgan Cazee, Kiersey Denief and husband, Evan, and Darsey Caswell; a great grandson, Mason Caswell; Cindy Tolliver (who was like a granddaughter), and her children, Grant Tolliver, Jacee Davis, and Tripp Stahl; three great great grandchildren, Violette, Breleigh, and Gavin; several nieces, nephews, and cousins. She was preceded in death by her parents, both husbands; a son, Robert L. Johnson; five brothers, Glen, Lewis, Gus, Theodore and Morrell; three sisters, Lora Cooper, Clara Ethel Beasley, and Margaret Keithly.
Funeral services will be conducted at 2:00 pm on Saturday, April 14th in the Elmwood Chapel of the Day & Carter Mortuary with Bro. Perry East officiating. Burial will follow in Knott Cemetery. Visitation will be from 11:00 am until the hour of service on Saturday, April 14th at the Day & Carter Mortuary. The family asks that friends consider memorial contributions be made to the First Baptist Church of Williams. Family and friends may express condolences at www.daycarter.com.