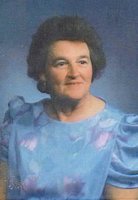 Alice M. Stearns
Alice M. Stearns July 11, 1934 – March 4, 2018 Mitchell – Alice M. Stearns, 83, of Mitchell, formerly of Bedford, died Sunday, March 4, 2018 at Mitchell Manor. Born July 11, 1934 in Lawrence County, she was the daughter of Henry Thomas and Lillie Mae (Box) Jenkins, one of 12 and all her brothers and brothers-in-law had eventually served in the military. She graduated from Shawswick High School and was also Senior Prom Queen. She was thrilled to save enough money from working at Kresge's to travel to Washington DC with her graduating class. She married Raymond Edward Stearns on July 2, 1953, whom she had known since they were children. They married in her oldest brother Art & Nora Jenkins' home. She and Ray traveled with the Army and also vacationed whenever possible. They shared many friends & family and acquired a cherished extended family along their journey; stateside and overseas. She was most proud to wear the title of Mrs. Sergeant Major Stearns when Raymond he retired. Her role as a wife, mother, Christian, musician and homemaker remained her mission throughout their marriage and during her natural life, and treasured being Grandma Alice. She was a skilled seamstress, enjoyed embroidery, cooking and crafts, but mostly spending time with family. Being a military wife she often had to endure long separations from her beloved husband. She was much stronger than even she would ever give herself credit. She was a lifetime member and 3rd generation of the Salvation Army Church and family. Survivors include three daughters, Terri Lea Stearns, of Mitchell, IN, Tammy Lynn Wollaston Stearns, of Pringle, SD, and Tracy Louise Page and husband, Patrick Atkinson, of Bedford, IN; grandsons, Jason E. Martin and wife, Kara, their children, Leighton, Christian and Emory Alise Martin, Mitchell, IN. Curtis A. Scott, all of Mitchell and William "Billy" James Cox V, Colorado Springs; granddaughters, Jennifer Hsu-Robinson and husband, Robert Robinson, Bedford, their children, and great-grandson Andrew James Hsu; great-granddaughter Courtney Hsu, both of Bedford, IN. Heather M. Cox, (Greg Bodeker) & great granddaughters Addison Marie, Robins, IA, great granddaughter Bailey, great grandsons Connor & Cian, IA; Granddaughter Katherine R. Jastremski-Cox (David Jastremski) and great grandson Kaiden Joshua; Granddaughter, Monica Wollaston, great granddaughters, Leah and Bella Brasuell, & grandson Timothy Wesley Wollaston, Arlington, TX; two brothers, Joe Jenkins & wife, Ida Mae, John Jenkins & wife, Jetta all of Bedford; a sister, Zella Rose, of California. Also, surviving are her Stearns family and sister-in-laws Shirley Cole, Santa Maria, CA, Norma Jean Foster, Tipton, TN, & Delores Hopper, Mitchell, IN and their families & Son-in-law, William J. Cox Jr. of Cripple Creek, CO and James Hsu, CA. Mother-In-Law Georgia Elizabeth Stearns of Mitchell, passed in 1976. Her brothers-In-laws Robert & Ronald Stearns, & Roger Davis, also preceded her in death as well as her parents, three brothers, Arthur, Hubert, Billy Dean, and Perry Jenkins; four sisters, Helen Cazee, Ethel Allen, Leatha McCormick, and Janet Eagan; a sister-in-law, Annabelle Jenkins; a son-in-law, Tim Wollaston, Mesquite, TX & SD and several other in-laws and cousins. She knew and loved 108 nieces & nephews on the Jenkins side and their families.
Alice lost her soulmate March 8, 2011, and has been searching for him ever since. She has left a legacy of love instilled in all that have known her, and her memories will be shared in our hearts through words, music and pictures for many years and generations that follow. She has given up her crown to be fitted for a halo. Rest In Peace Alice Marie
Funeral services will be conducted at 2:00 pm on Wednesday, March 14th in the Elmwood Chapel of the Day & Carter Mortuary with Ray Briggs officiating. Burial will follow in the Mitchell Cemetery. Visitation will be from 4:00 pm to 8:00 pm on Tuesday, March 13th at the Day & Carter Mortuary. Family and friends may express condolences at wwwdaycarter.com.