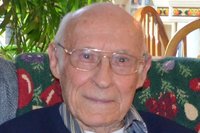 Dr. John F. Medlock DVM
Dr. John was born September 17, 1924, to Jack and Emma (Smith) Medlock, Needmore, IN. He married Viola Jackson on February 15, 1947 and she survives. He died peacefully surrounded by all his family.
Dr. John was proceeded in death by his identical twin brother Dr. Robert 'Bob' Medlock, March 2007. He graduated from Needmore High School in 1942 and enlisted in the U.S. Navy in 1943. He attended a number of different aviation ordinance schools, and eventually was assigned to a base on Attu, the last island in the Aleutian Islands chain off of the Alaskan Peninsula. The Battle of Attu was of particular importance during WWII because it was the only land battle fought on U.S. territory since the War of 1812. Both brothers served together for 3 years as top turret gunners in the same Navy flight squadron but on different flight crews.
Following WWII, the twins graduated from Veterinary Medical School at Michigan State University in 1954. They returned to Lawrence County and established North Side Animal Hospital (later renamed Bedford Veterinary Medical Center). He practiced Veterinary Medicine for 32 years. John married Viola (Vi) Jackson February 15, 1947. They just celebrated their 71st wedding anniversary.
Dr. John was a lifetime member of the American Veterinary Medical Association (AVMA), the Indiana State VMA, and the 9th District AVMA. He twice served as president of the 9th District VMA and once served as Chairman of the State VM Examination Board. He served on the Bedford Medical Center Board of Directors for over 20 years. He was a Ray W. Fry Outstanding Alumni and a member of Faith Mission Church for almost 70 years. Additionally, he was a lifetime member of the American Legion Post #33, the FOP; and was at one time active in the Kiwanis, the Elks, Bedford Masonic Lodge, the Scottish Rite Valley of Indianapolis, and the Murat Shrine Temple.
He is survived by his wife Viola; one son, John Duane Medlock (wife Robin) Ft Myers Beach, FL; three daughters Nancy Butler (husband Greg) Bloomington, IN; Debbie Wessel (husband Dennis) Bedford; and Debbie Rainey (husband Myron) Bedford; 5 grandsons, 5 granddaughters, and 8 great grandchildren. He was preceded in death by his parents; 5 brothers and 5 sisters.
Funeral services will be conducted at 10 am on Wednesday at Day & Carter Mortuary with Rev. Leonard Sankey, Rev. David Crosley, and Rev. Mark Stetler officiating. Burial will follow at the Cresthaven Memory Gardens. Friends may call from 4-8pm on Tuesday at the Day & Carter. Military Honors will be accorded at the graveside.
In lieu of flowers, contributions may be made to the Stone City Christian Academy.