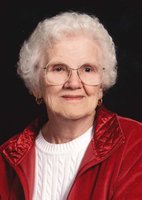 Clarice Isabell Mitchell
Bedford – Clarice Isabell Hitchcock Mitchell was born 22 September, 1919 in Indian Springs, IN to Odes and Mary Ethel Faris Hitchcock. She became a member of the Indian Springs United Methodist Church in early life and years later moved her membership to the First United Methodist Church of Bedford, IN.
She graduated from Trinity Springs High School, Central Normal College at Danville, IN and Indiana State University at Terre Haute, IN.
She married Harold C. Mitchell in 1941, and he preceded her in death. They Had celebrated their 50th anniversary in 1991. She was also preceded in death by a son, Michael Wayne Mitchell, A granddaughter, Carrie Mae Mitchell, a brother, Arnold Hitchcock, and a daughter-in-law, Donna (Embree) Mitchell. Survivors include a son, Philip Harold Mitchell (Judy), of Bedford and a daughter, Janice Mitchell Bedwell (Rex Dennis), of Carbon. Grandchildren include Kim Mitchell Ray (Kyle) and Philip Scott Mitchell (Barbara), of Bedford, Thomas Wayne Mitchell (Corlan), Timothy Michael Mitchell (Tracy), Carol Marie Crum, and Troy Matthew Mitchell (Nicole), of Crawfordsville, and Kristen Bedwell Beasley (Martin), of Brazil. Great-grandchildren are Michael Riley Watts (Kiley), Hope Crum, Faith Crum, Tyler Crum, Mae Mitchell, Molly Marie Mitchell, Matt Mitchell, and Kale Mitchell, of Crawfordsville, Caleb Ray, Elijah Ray, Lauren Mitchell and Molly Clair Mitchell, of Bedford, Kaitlyn Mitchell of Charleston, SC, and Emma Grace Beasley, of Brazil. Step-grandchildren are Greg Garr and Logan Bailey, of Crawfordsville and Katie Fultz (Chris) and Kasey Fenstermaker, of Ft. Wayne. Great Great-granddaughter, Cora Fultz and step-great great-grandson, Cobi Fenstermaker, of Ft. Wayne also survive. She is also survived by nieces, Patsy Hitchcock Dye, of Shoals, Norma Hitchcock Thrasher, of Harrodsburg, a nephew, Edward Hitchcock, of Bloomington, and many other relatives.
Mrs. Mitchell began her teaching career at Pea Ridge School in Martin County, IN. She also taught at the Trinity Springs, IN school as well as elementary schools in Williams, Dugger, Shoals and Fayetteville. Memberships have included the Indiana State Teachers Association, the First United Methodist Churches in Indian Springs and Bedford, the John Wallace Chapter of the Daughters of the American Revolution, and the Flinn, Guthrie, Speer family association. She also volunteered at the Lawrence County Historical & Genealogical Museum. Her interests included traveling, reading, genealogy, quilting, crocheting, and working crossword puzzles.
The family would like to thank the staff at Bliss Place and Kindred Hospice for their care of her in her last illness.
Funeral services will be conducted at 1:00 pm on Monday, February 5th in the Elmwood Chapel of the Day & Carter Mortuary with Pastor Lee Brown officiating. Burial will follow in the Green Hill Cemetery. Visitation will be from 1:00 pm to 5:00 pm on Sunday, February 4th and from 11:00 am until the hour of service on Monday, February 5th at the Day & Carter Mortuary. In lieu of flowers, donations may be made in her honor to the Lawrence County Community Foundation in support of the Lawrence County Museum.