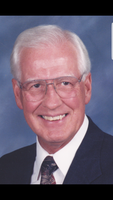 Jerry Donald Allen
Mr. Jerry Donald Allen, age 80, of Madison, Indiana entered this life on January 15, 1937 in Bedford, Indiana. He was the loving son of the late Walter L. and Alma Henson Allen. He was a 1954 graduate of Bedford High School and then attended the School of Banking in Madison Wisconsin. Jerry served honorably in the United States Army and was honorably discharged from the National Guard. On May 26, 1956 Jerry was united in marriage to Susan Kay Menaugh in Bloomington, Indiana. This happy union of 61 years was blessed with sons, Don and Stephen. Jerry served as Vice President of the Bedford National Bank in Bedford, Indiana for 21 years. In August 1977 the family moved to Madison and he served as Vice President of Madison First Federal and on the Board of Directors as well retiring in 1999 from River Valley National Bank. Jerry was a member of the First Christian Church in Bedford, Indiana and after moving to Madison he attended the Trinity United Methodist Church in downtown Madison. He also held membership in the Rotary Club in Madison, the Elks Club in Bedford and Madison, the Bedford Jaycees, the Bedford Chamber of Commerce, and the Jefferson Post 9 of the American Legion. In September of 1983 he was honored with being commissioned an honorary captain of the Belle of Louisville. Jerry enjoyed golf, fishing, being with his grandchildren and taking them fishing. Jerry died on Monday, January 1, 2018, at 4:32 a.m. at the River Terrace Health Campus in downtown Madison, Indiana.
A LOVING FAMILY
Jerry will be missed by his loving wife of 61 years, Susan Kay Menaugh Allen of Madison, Indiana; his loving sons, Don Allen and his wife, Suzanne of Dallas, Texas, Stephen Allen of Commerce Township, Michigan; his loving grandchildren, Sarah Flores and her husband, Mike, Blake Allen, Kelly Allen, Amanda Allen and Abigail Allen; his sister, Barbara Fish of Mitchell, Indiana; his sister in law, Ruth Allen of Mitchell, Indiana; his brother in law, P. Thomas Menaugh and his wife, Karen of Phoenix, Arizona; several nieces, nephews and other relatives. He was preceded in death by his father, Walter L. Allen, his mother, Alma Henson Allen Wever, his daughter in law, Melissa Ann Martin Allen, died April 15, 2015, his brothers, Walter Allen and Mike Allen.
FUNERAL CEREMONY
Funeral services will be conducted Saturday, January 6, 2018, at 10:30 a.m., by Pastor Dennis Ingle at the Morgan & Nay Funeral Centre, 325 Demaree Drive in Madison, Indiana. Graveside services will follow Saturday at 2:30 p.m. in the Green Hills Cemetery, 1202 18th Street in Bedford, Indiana
VISITATION
Friends may call Friday from 4:00 p.m. - 7:00 p.m. and Saturday from 9:00 a.m. until the time of service at the Morgan & Nay Funeral Centre, 325 Demaree Drive in Madison, Indiana and also on Saturday from 1:00 p.m.-2:00 p.m. at the Day & Carter Mortuary, 1133 Lincoln Avenue in Bedford, Indiana.
MEMORIAL EXPRESSIONS
Memorial contributions may be made to the Trinity United Methodist Church, First Christian Church of Bedford or the Salvation Army.