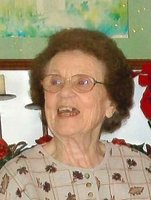 Lois L. Inman
Bedford – Lois L. Inman, 91, of Bedford, died at 8:00 pm on Sunday, November 26, 2017 at her residence.
Born July 16, 1926, she was the daughter of John and Gretchen (McGlothlin) Watson. She married Cecil Inman on November 19, 1943 and he preceded her in death on October 8, 1990. She was a homemaker and a member of the Guthrie Christian Church.
Survivors include a daughter, Jill A. Deckard, and fiancé, Kevin Bailey of Bedford; four grandchildren, Kip Inman and wife, Charity, James Inman, Alissia Inman and companion, Monte Bastin and Tiana Deckard, all of Bedford; nine great grandchildren. She was preceded in death by her parents, her husband, two brothers, Harold E. and Howard Frank Watson; a son, Denny G. Inman.
Funeral services will be conducted at 1:00 pm on Wednesday, November 29th in the Elmwood Chapel of the Day & Carter Mortuary with John Lee officiating. Burial will follow in Hayes Cemetery. Visitation will be from 10:00 am until the hour of service on Wednesday, November 29th at the Day & Carter Mortuary. Family and friends may express condolences at www.daycarter.com.