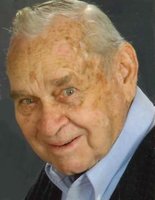 Chester Junior Baker
Chester Junior Baker, 93, of Bedford passed away Friday, November 24, 2017 at his home of natural causes with his family at his side.
Born January 30, 1924 in Lawrenceport, IN he was the son of Chester H. and Louisa (Colglazier) Baker. He married Margaret Ann Harris on December 6, 1946, and she survives. He was a member of Leatherwood Christian Church.
He was a proud member of the Sixth Armored Division under General Patton in WWII where he received a Purple Heart and the Silver Star. He was a continuous member of the American Legion Gillen Post #33 for over 71 years. After the war, Chester worked at the family business, C & B Electric Hardware on the Bedford Square for 20 years before he joined the Plumber Pipe Fitters Union #136 where he worked as a Plumber Pipe Fitter until he retired in 1987. He was a farmer for over 60 years.
He is survived by his wife, Margaret of Bedford; four daughters: Cathy (Mike) Allman of Bedford, IN; Mona (Tim) Wolf of Cincinnati, OH; Louisa (Mike) Ooley of Bedford, IN; Nellie Neal of Lafayette, IN; 10 grandchildren: Greg (Autumn) Allman, Robert (Krystal) Allman, Sara Wolf, Samantha Wolf, Jessica Wolf, Jacob (Jessica) Wolf, Ben Ooley, Chris Ooley, James Neal, Kay (Tyson) Moore; 5 great grandchildren: Cason Moore, Bailey Moore, Raegan Moore, Tatum Moore, Asa Allman; one sister: Nellie Reynolds of Columbus, IN, and a sister-in-law, Kay Johnson of Beaver Dam, KY. He was preceded in death by his parents.
Funeral services will be conducted at 10:00 am on Tuesday, November 28th in the Elmwood Chapel of the Day & Carter Mortuary with Pastor Sherman Thomas officiating. Burial will follow in Cresthaven Memory Gardens. Pallbearers will be his Grandsons. Visitation will be from 4:00 pm until 8:00 pm on Monday, November 27th. In lieu of flowers the family asks that friends consider memorial contributions be made to the Leatherwood Christian Church, 3518 Leatherwood Road, Bedford, IN.