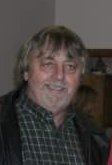 Benjamin "Benny" Tarr
Bedford – Benjamin (Benny) Tarr, 62, of Bedford, died at 12:35 pm on Wednesday, October 11, 2017 at his residence surrounded by his family and friends.
Born October 31, 1954, in French Lick, IN, he was the son of Joe and Mildred (Lindsey) Tarr. He married Elaine Chase and she survives.
Benny was owner of Elaine's Puppies and had retired from U.S. Gypsum. Benny loved his dogs, I.U. basketball, music and family time.
Survivors include his wife, Elaine Tarr, of Bedford; his mother, Mildred Tarr, of Mitchell; a daughter, Tara (Billy) Powell, of Newburgh; grandchildren, Joshua, Cloie, and Autumn Powell, all of Newburgh; siblings, Bob Tarr (Gloria), of Colorado Springs, CO, Lana Duncan (Tim), of Bloomington, Joe Tarr (Marilyn), and Gary Tarr (Teresa) both of Mitchell, Randy Tarr, of Bedford, Beverly Chastain (Todd), of Mitchell, Beth Ann Newlin (Bryan), of Orleans, and Sandy Eastridge (Travis), of Mitchell. He was preceded in death by his father, two brothers, Terry and Donald Tarr; a sister, Gail England; a grandson, Jacob Powell.
The family would like to thank Theresa and Felicia, at Southern Care Hospice, I.U. Health Oncology Group, Dr. Shamloo, Dr. Koneru, Vanessa, at I.U. Health Bloomington, CVS, and Missy Craig from the Sweet Shoppe.
Funeral services will be conducted at 2:00 pm on Sunday, October 15th in the Elmwood Chapel of the Day & Carter Mortuary with Pastor Kenny Fisher officiating. Burial will follow in the Green Hill Cemetery. Visitation will be from 2:00 pm to 6:00 pm on Saturday, October 14th and from 1:00 pm until the hour of service on Sunday, October 15th at the Day & Carter Mortuary.
Family and friends may express condolences at www.daycarter.com.