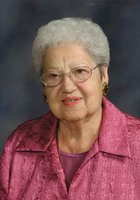 Nina F. Kelly
Huntingburg – Nina F. Kelly, 93, of Huntingburg, formerly of Bedford, died at 9:20 am on Tuesday, August 08, 2017 at her residence.
Born October 5, 1923, in Lawrence Co., she was the daughter of Henry and Alta (Dobson) Garsnett. She married Robert O. Kelly on May 18, 1942 and he preceded her in death on March 15, 1992. She retired from Westinghouse after twenty-two years. She had also worked at Central Foundry and RCA. She was a long-time member of the Guthrie Christian Church, Ladies Aide of Guthrie, Huntingburg Central Christian Church, U.A.W. Local #440 and the I.B.E.W of Bloomington.
Survivors include two daughters, Cathy Kelly Gilbert and husband, Phil, of Huntingburg, Debra Kelly Combs and husband, Michael, of Bloomington; eight grandchildren, Trisha Hillenburg and husband, Dennis, of Bedford, Katie Combs, and fiance, Chris Soptich, of Elkhart, IN, Chad Allen and wife, Rachel, of Mukilteo, WA, Tad Allen and wife, Debbie, Kelly Allen and wife, Michelle, all of Huntingburg, Trent Owens and wife, Nancy, of Holland, IN, Stephanie Gerstad and husband, Michael, of Newburg, IN, Leigh Gilbert and fiance, Paul, of Huntingburg, IN; twenty -one great grandchildren; a brother, Morris Garsnett and wife, Fidella, of Indianapolis. She was preceded in death by her parents, her husband, a daughter, Connie Kelly Owens Richard; a sister, Marilyn DeWitt; three brothers, Kenneth Norman, Alvin Garsnett and Frank Norman.
Funeral services will be conducted at 2:00 pm on Saturday, August 12th in the Elmwood Chapel of the Day & Carter Mortuary with Pastor George Sites officiating. Burial will follow in Hanson Cemetery. Visitation will be from 11:00 am until the hour of service on Saturday, August 12th at the Day & Carter Mortuary. Family and friends may express condolences at www.daycarter.com.