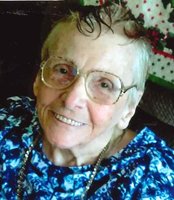 Ruby Watterson
Bedford – Ruby Watterson, 89, of Bedford, died at 10:14 am on Sunday, July 23, 2017 at Westview Nursing and Rehab. in Bedford.
Born October 12, 1927 in Bedford, she was the daughter of Charles and Martha Ellen (Childers) Stevens. She married Cecil Watterson on December 8, 1944 and he died on July 20, 1995. She was a homemaker.
Survivors include a son, James Edward Watterson, of Mitchell; a daughter, Connie Christenson, of Bedford; several grandchildren and great grandchildren; a sister, Geneva Lemmons, of Bedford; several nieces and nephews. She was preceded in death by her parents, her husband, two sons, Billy Joe Watterson and Cecil Watterson, Jr.; two daughters, Betty Lou McCloskey and Linda Kay Garland. eight brothers, Franklin, Leroy, Pete, Lonnie, Albert, Bill, Tedrowe, and Charles Stevens; three sisters, Louise Stevens Jones, Wilma Violet and Mary Winters.
Graveside services will be conducted at 1:00 pm on Wednesday, July 26th at Beech Grove Cemetery with John Lee officiating. Burial will follow. Visitation will be from 11:00 am until 12:30 pm on Wednesday, July 26th at the Day & Carter Mortuary. Family and friends may express condolences at www.daycarter.com.