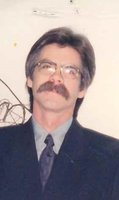 Mark Lyon
Mitchell – Mark Lyon, 61, of Mitchell, formerly of California, died at 1:45 pm on Wednesday, July 19, 2017 at I.U. Health Hospice House in Bloomington.
Born May 13, 1956 in Nevada City, CA, he was the son of Ralph and Claudina (Sutherland) Lyon. He married Pamela Stinson on February 14, 1988 and she survives. He had worked at Superior Kiln Mill in Bedford and was a Millwright at Lehigh Cement in Mitchell. He loved his wife, kids, grandkids, his dog, Marley and his friends. He loved to cook, paint and drink beer.
Survivors include his wife, Pamela, of Mitchell; six children, Claire Stinson, Dustin Stinson, Ceji Cain, Michelle Cain, Kendra Lyon and Kristi Lyon; several grandchildren and great grandchildren; two brothers, Paul and Roger Lyon; a sister, Marlene Habian, all of IL. He was preceded in death by his parents.
Funeral services will be conducted at 11:00 am on Tuesday, July 25th in the Elmwood Chapel of the Day & Carter Mortuary with John Lee officiating. Burial will follow in Mt. Olive Cemetery. Visitation will be from 4:00 pm to 8:00 pm on Monday, July 24th at the Day & Carter Mortuary. Family and friends may express condolences at www.daycarter.com.