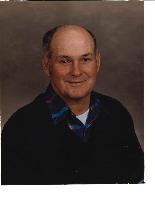 Hanford G. "Hank" Prince
Bedford – Hanford "Hank" G. Prince, 84, of Bedford, died Saturday, May 6, 2017 at his residence.
Born July 27, 1932 in Monroe County, he was the son of Opal and Vannie (Hillenburg) Prince. He spent his professional career as a bulldozer operator at Indiana Limestone for forty- four years. Throughout his life, Hanford "Hank" was an avid outdoors man, and enjoyed spending time fishing, hunting, his cattle and gardening. He also enjoyed watching Nascar, I.U. basketball and Colts football. He was deeply loved by his family and friends. He was an outstanding father and pap, and loved his children, grandchildren, and great-grandchildren very much.
Survivors include two daughters, Tami Holtsclaw and husband Lexie, and Regina Vonderhaarr and husband Rich both of Bedford; one son, Gerald Prince and wife Tammy of Bedford; the children's mother, Delores Dee Sowders of Bedford; six grandchildren, Nate Norman and wife Lauren of Bloomington, Holly Owens and husband Donnie of Indianapolis, Amber Baker of Anderson, Hillary Deckard and husband Eli , Brittany Kern and husband Dustin, and Craig Prince and wife Erin all of Bedford; fourteen great- grandchildren, Kennedi, Elin, Silas, Evan, Eli, Angel, Maddie, Mason, Brayden, Parker, Hudson, Ava, Cale, and Cap; two brothers, Gene Prince and Deward Prince; four sisters, Rita Prince, Kay Olsen, Faye Phillips, and Susie Jones; and his companion, Opal Harden. He also appreciated his trusted and loyal friends, Dwight and Max Volz; and his cousin, Kelsie Martin. He was preceded in death by his parents; one sister, Margie Meadows; and three brothers, Wendell, Robert, and Marion Prince.
Funeral services will be conducted at 11:00 am on Wednesday, May 10, 2017 in the Elmwood Chapel of the Day & Carter Mortuary with Jody East officiating. Burial will follow in the Clover Hill Cemetery. Visitation will be from 4:00 to 8:00 pm on Tuesday, May 9, at the Day & Carter Mortuary and from 10:00 am until service time on Wednesday. Family and friends may express condolences at www.daycarter.com.