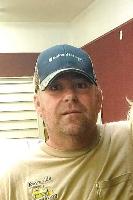 Lloyd Phillips
Lloyd Phillips, 49, Springville, passed away on Saturday, May 6, 2017 at his residence.
He was born on June 6, 1967 in Bedford, son of Junior and Evalee Phillips.
He was the owner and operator of Lloyd Phillips Water Well Service and Lloyd Phillips & Son Fencing. Lloyd was a member of the Grace Baptist Church, Indiana Water Well Drillers, Lawrence County Cattleman Association and Springville West Cemetery Board Association.

Survivors include one son: Eric Junior Phillips and his girlfriend; Samantha Taylor. One granddaughter, Isabela; two grandsons, Gage and Kristopher, and others whom he loved as honorary grandchildren: Lexi, Haley and Cash. Five brothers: Charles & Leora Cain, Terry Cain, Eugene Cain, Jay & Kim Phillips all of Williams, and Bryan Phillips of Spencer. Two sisters: Ettamae & Kevin Elliott of Williams and Tammy & Kelly Holland of Owensburg. Brother-in-law: Rex Martin, Uncles and Aunts: Reverend Ray Phillips, Zula & Roy Bell, Betty Bell, Reverend Wendell Phillips, Danny & Connie Phillips, Joyce & Alfred Godsey, Zella & Mitch Keithley, Judy Brain and Mary Phillips and all his special nephews and nieces.
He was preceded in death by his parents; one daughter, Bonnie Phillips; one son, Junior Phillips; one sister, Catherine Martin; Grandparents: Owen and Lela Phillips and Lee and Ottie Phillips, Uncles and Aunts: Arthur Phillips, Joe Phillips, Velma Eggers, Nancy Phillips, Preston Bell, Loretta Keseric, Boyce Phillips, William Phillips, Mossie Martin, Hobert Phillips, Joe Brain, Joyce Phillips and Virginia Phillips.
Visitation will be: May 9 2:00-8:00 p.m. at the Day and Carter Funeral Home in Bedford, Indiana. Visitation on Wednesday will be: 11:00 a.m. – 2:00 p.m. at the Grace Baptist Church in Springville, Indiana. Funeral services will be conducted at 2:00 pm in the Grace Baptist Church with Bob Phillips, Doug Phillips and Jerry Eads officiating. Burial will follow in Springville West Cemetery
Honored Pallbearers: Doug Huffman, Jason Phillips, Billy Elliott, Travis Cain, Nathan Hughes and Jerry Phillips.
Family and friends may express condolences at www.daycarter.com.